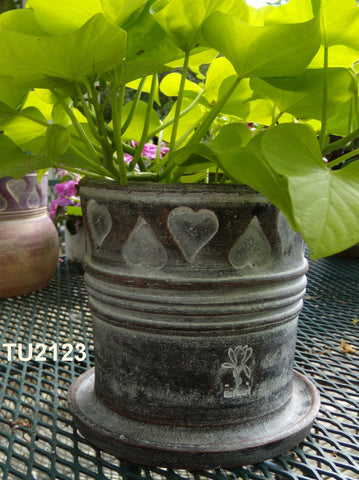 Handmade greenhouse flower pots, Hearts cylinder, set of 4 - Pots de serre
Unglazed 

Terracotta greenhouse flower pots with saucer  
 pot #4 ; 7" h x 6",dia.  multipack set of 4 units
These greenhouse pots serve as beautiful works of art as well as functional garden vessels. They are hand turned on a wheel by a skilled artisan. Our unique antique and moss pottery finish is applied by hand and will acquire a moss and lichen patina over time, or may be scrubbed periodically with a stiff-bristled brush.
Pots have drainage holes 
They are not frost-resistant, store inside during winter months. 
Each piece is stamped with our logo and a number, indicating the ''wet weight'' of clay 4 pounds that the potter used to make that pot.
Designs are inspired by designs found once in English & French conservatories
hand made in Honduras
Ces pots de serre servir de belles oeuvres d'art ainsi que des objects fonctionnel. Cette poterie fine est levée à la main sur une roue par des artisans potiers du Honduras. Notre finition antique unique de poterie est appliquée à la main avant le cuisson. Les belles lignes et petits détails en grès naturel d'argile sont évident sur ces pots de serre. Ils acquièrent une patine de mousse et de lichen au fil du temps, ou peut être nettoyée régulièrement avec un pinceau à poils raides. 
Les pots ont des trous de drainage.
Chaque pièce est marquée avec notre logo et un numéro indiquant 4 livres poids humide d'argile .
La source d'inspiration pour ces modèles vient de potiers anglais, et français, du 18ème et 19ème siècle.
Ils ne sont pas résistantes au gel, entreposage à l'intérieur pendant d'hiver.
---
We Also Recommend