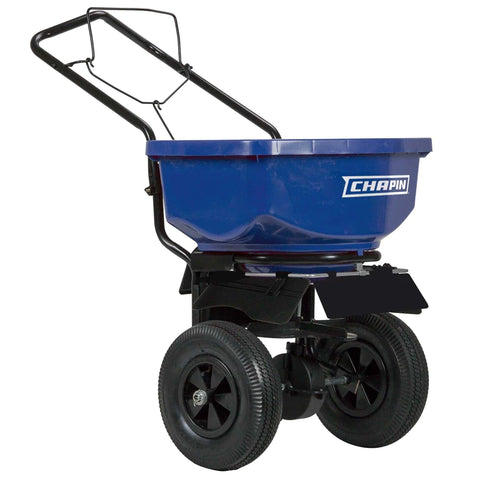 Spreader, 80-Pound Residential Ice Melt broadcast 8201A:- Epandeur de déglaçant
The 80-Pound Ice Melt Spreader boasts a rugged powder coated steel frame, ergonomically designed bail system that allows for use of either hand during operation, baffle system for edge control, and pneumatic tires for just about any terrain. A spiked, poly auger is included to help tear up clumps and keep ice melt moving freely.
80-Pound capacity hopper
Enclosed gearbox to withstand the elements
Rugged powder-coated steel frame
Aggressive spiked auger to keep product flowing smoothly
Recommended for use with  Halite, potassium chloride, magnesium chloride and calcium chloride (small and pelletized particulates)
Innovative gate design with adjustable dial for precise gate control
Slide gate for spreading a broad range of products
Front and side baffles for directional control of spread pattern
Ergonomically-designed bail system
12-inch pneumatic tires for stability over uneven terrain
U-shaped handle with ambidextrous bail
NOT RECOMMENDED FOR USE WITH ROCK SALT OR SAND
Applications: pretreat and de-ice solutions
Oversize carton.  Call for shipping quote.
8201A Epandeur capacité de 80 livres - 36k, pour engrais ou déglaçant.
Trémie d'une capacité de 80 livres
Boîte de vitesses fermée pour résister aux éléments
Cadre en acier robuste enduit de poudre
Vis sans fin à pointes agressives pour que le produit continue de s'écouler en douceur
Recommandé pour une utilisation avec du de l'halite, du chlorure de potassium, du chlorure de magnésium et du chlorure de calcium (particules fines et granulées)
Conception de porte innovante avec cadran réglable pour un contrôle précis de la porte
Porte coulissante pour l'épandage d'une large gamme de produits
Déflecteurs avant et latéraux pour le contrôle directionnel du motif d'épandage
Système de caution de conception ergonomique
Pneus pneumatiques de 12 pouces pour la stabilité sur terrain accidenté
Poignée en U avec anse ambidextre
NON RECOMMANDÉ POUR UNE UTILISATION AVEC DU SEL ROCHE OU DU SABLE
Carton surdimensionné. Appelez pour un devis d'expédition

---
We Also Recommend