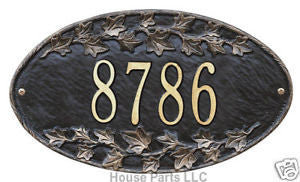 Address plaque Ivy Oval wall
Personalized Address Plaques, Ivy
 Oval
100 % Cast Aluminum. Crafted from rust-proof aluminum
Paint formulated and weather-tested to withstand the harshest elements.
WH4002  One-line version (only your house number)(up to 5 numbers)
Standard size:     (13.5 in. x 7.75 in.)
Delivered to you in Canada, with none of the problems when ordering from a US web site.  Delivery 4 to 6 weeks.
---
Les plaques de nom et d'adresse personnalisées, 
Fabriqué en aluminium antirouille, 100 % aluminium coulé
Peinture formulée et éprouvée contre les intempéries pour résister aux éléments les plus rigoureux.
WH4002  version à 1 ligne (numéro de maison seulement (5 chiffres))   (13.5 in. x 7.75 in.)
---
We Also Recommend